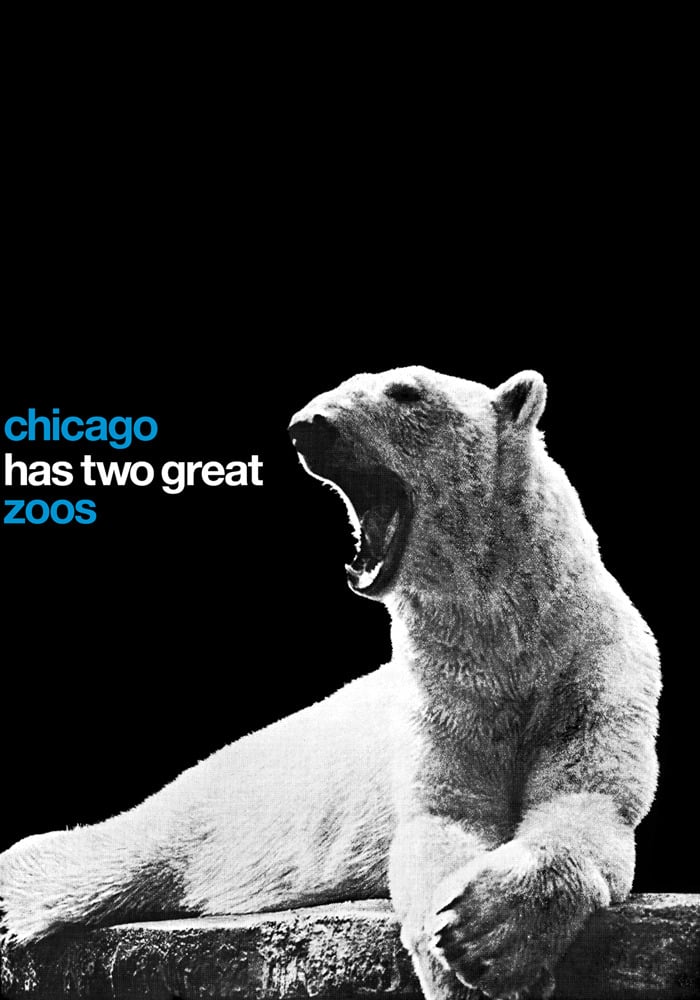 chicago has two great zoos [Last one!]
First released in 1966, Chicago Has Two Great Zoos was created by
John Rieben for the Container Corporation of America's Chicago Cultural Communication Project. Many a Chicagoan has boasted about our two zoos, and many a zoogoer has been enchanted by the polar bear – ferocious and playful. Rieben's design is equally captivating. A half-toned photograph of a roaring bear, full of life and texture, is set against deep black. The crisp, cool type in white and icy blue contrasts the bear's organic form.
Flatmade, in collaboration with Mr. Rieben, is releasing the print in a numbered edition of 100. The posters were printed by Montreal's Communications Imprimées Bellemare, a leader in silk screen printing.

These prints are large and gorgeous. Here is your chance to own
a piece of history.


- Limited-edition, exclusive to flatmade 

- Hand-printed serigraph (silkscreen)

- Printed on heavyweight archival paper 

- Dimensions: 35 x 50 inches 


About the designer
John Rieben (born 1935) is an internationally recognized graphic designer whose career has included serving as the Manager of Design at the Container Corporation of America, Director of Communications at Raychem Corporation and Vice-President and Creative Director at Mobium/RR Donnelley. Mr. Rieben has taught graphic design at the university level and is now Professor Emeritus at the University of Wisconsin, Madison.
Mr. Rieben's work is in several prestigious collections including the Museum of Modern Art. Mr. Rieben's designs have been featured in a number of publications including Who's Who in Graphic Arts and Steven Bateman's 2011 book Symbol.