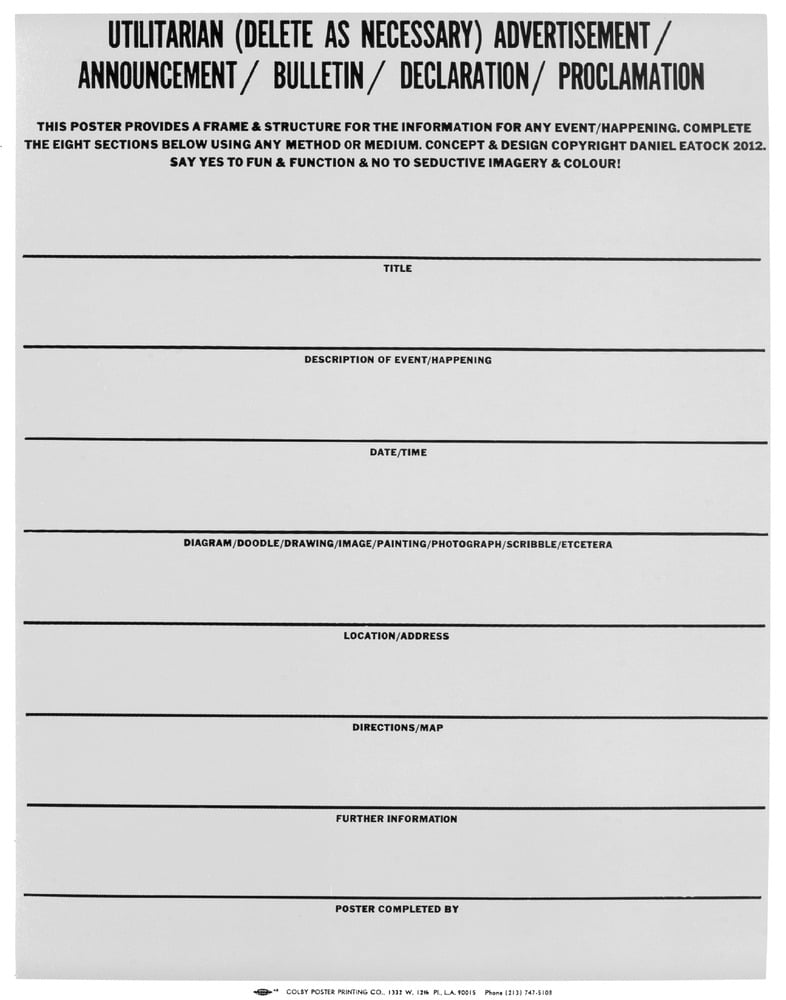 Daniel Eatock: Utilitarian Poster
Daniel Eatock (born 1975) is a London-based artist/designer/wonder. His work spans the sublime and the beautiful, with wit as a constant. Our favorite work by Mr. Eatock is his highly conceptual Utilitarian Poster from 1998. (Our second favorite, in case you are wondering, is this masterpiece).
Eatock described the original printing of the Utiltarian Poster as a "generic form/template silkscreened on newsprint paper, [which] methodically guides the user through the steps of creating their own advertisement, and includes blanks in which to insert relevant information, such as titles of events, images, persons to contact, etc. The work is wholly dependent upon viewer response, the absence of which denies the piece its essential content."
We thought it would be interesting to up the utilitarian quota of this piece. So, we paired up Mr. Eatock with the Colby Poster Printing Company. Between 1948 and 2012, the fabled print shop specialized in posters and signage. Their trademark style, popular with new wave bands and political hopefuls alike, consisted of bold condensed type letterpressed over a tri-color blend of flourescent colors. In something of a conceptual exercise, Colby layed out this wonderful print in their signature letterpress style. The 2012 Utilitarian Poster was Colby's penultimate print run before they closed up shop for the last time on New Year's Eve.
A few details
• 22 x 28 inches (55.9 x 71.1 cm)
• Letterpress on cardstock
• Edition of 100