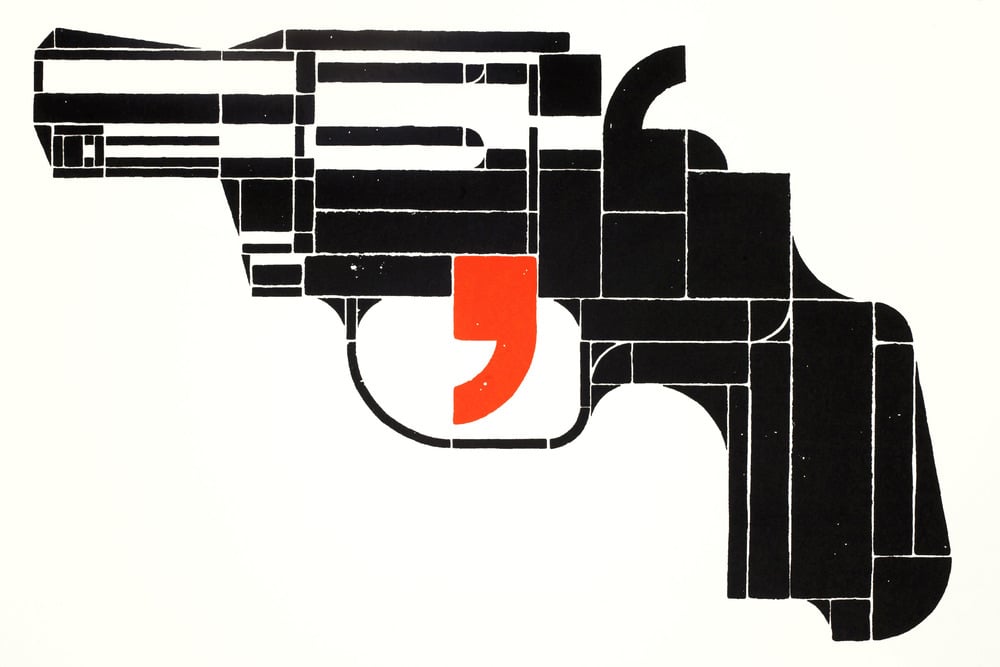 Stefan Sagmeister—Apostrophe [Just a few left]
Stefan Sagmeister
Apostrophe
 
Apostrophe is a gorgeous two-color screenprint. The design was originally commissioned by Neenah Paper in 2005 as one of a series featuring punctuation symbols. Each symbol was assigned to a different designer. The most superb of these (of course, we're biased) was the apostrophe assigned to Stefan Sagmeister and Matthias Ernestberger. In collaboration with Mr. Ernstberger, Mr. Sagmeister accentuated the apostrophe's function of character eliminator by featuring it prominently as the trigger of the gun. High-caliber whimsy.
 
The serigraphs were printed by the talented people at Brooklyn's Haven Press. Each print includes a signed and numbered certificate of authenticity. 
A few details
• 24 x 36 inches (61 x 91.4 cm)
• Coventry Rag 290 Gsm
• Torn edges 
• Edition of 100
About the designer
Stefan Sagmeister (born 1962 in Bregenz, Austria) is a designer known for pushing boundaries. Since opening his studio in 1993 (with an unforgettable announcement card), he has worked with an impressive roster of clients that includes the Rolling Stones, the Talking Heads, Levi's and the Guggenheim Museum. His work has been exhibited worldwide, from New York City to Tokyo. Most recently, Mr. Sagmeister, in conjuction with partner Jessica Walsh, opened Six Things at the Jewish Museum. His monographs include Things I have learned in my life so far (2008) and Sagmeister: Made You Look (2009). In short, he's the bestest. Sagmeister once claimed, "Yes, design can make you happy." That's our philosophy exactly. 
:)